Home With Henry: A Memoir
On a noisy suburban road, I stop traffic to rescue a stray ginger cat and take him to my vet. A week later, Henry is still hiding behind a dust ruffle under my guestroom bed. Both Henry and I feel scared, for similar reasons. We are trying to make a home in a city house—and a city life—that's new to us.
Like many in my generation, I had thought a woman has to wait until she marries before she buys a house. I'd recently given up that notion, found a lovely place with a garden and moved in—only to realize I'd never fill the house with a traditional family. I had to get used to being alone—or figure out a way to make a rich, alternate life.
In my journal, I note Henry's progress—or lack thereof. For months, he hides under the bed. My visiting nephew, ten-year-old Tommy, tries to lure Henry out to play, but the cat stays put. With the help of a work colleague who nurtures hurt birds, I invent ways to entice Henry. I tuck food between my knuckles and slide them under Henry's pink nose. I sit on his bed reading WWII histories and chatting to him. Finally, he begins to emerge—only to fight with the other resident cat, an older calico. I watch their territorial negotiations, thinking that the dailyness of the cats—their comings and goings—has begun to make my house more homelike.
By now, Henry has discovered the walled garden in the back of my house. In a climactic scene, he perches on the wall. Will he stay or run away, leaving me behind?
Meanwhile, I begin to fit into my diverse and interesting neighborhood. Cathy, another writer who lives down the block, shows me an unkempt path by the banks of the Schuylkill River—where I begin to sense that I can find comfort from the natural world even in the city.
Gradually, with setbacks and with wit, I make a kind of alternate family with my visiting nephew, my neighbors—and Henry.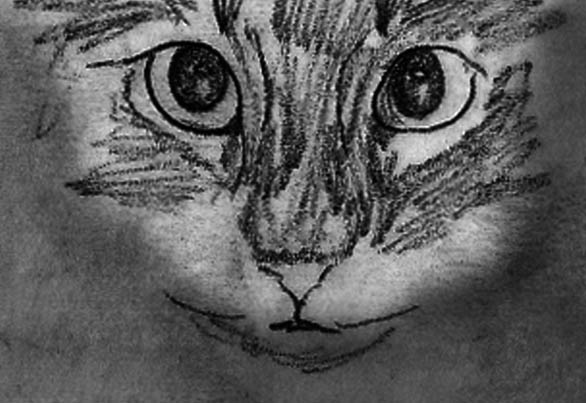 Illustration: Carol Chu
"Pet lovers will lap up every word of this charming and candid story of a single woman opening her heart and home to an emotionally complicated cat. Like the best pet memoirs, it is what we learn about the human experience that matters most."
-John Grogan, author of international best-seller Marley and Me